3 Jul 2017
Wonderful news a new film about Christoper Robin, A.A.Milne and of course Winnie the Pooh is being released in September.
29 Mar 2017
Christopher Robin, Pooh, and Piglet are enjoying the Spring sunshine in Ashdown Forest. I removed a page from my "The World Of Christopher Robin" book, and adhered it to a small canvas. The branches wer ecreated with texture paste and detailed with paint.
After stamping this lovely Pooh swing stamp I coloured and fussy cut them. I hung the Happy group from the branches festooned with die cut blossoms.
Thank you for visiting us in Ashdown Forest today.
I created this page for the challenges below
Happy Little Stampers Mixed Media Challenge Books
I was very lucky to have received this recently from Frilly and Funkie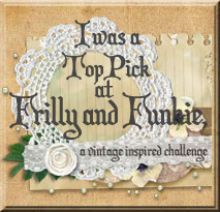 I also had a lovely surprise this week, when a project was returned to me from Making Cards, and I received these lovely goodies below, totally unexpected! Many thanks to Sally Jarvis.
4 Oct 2016
Free Cath Kidston Pooh Printables
It's not long now until our silly old British bear is 90 years old on the 14th October! Cath Kidston recently released a new pooh print (unfortunately it was Disney Pooh and not the original Pooh as drawn by E.H.Shepard - still lovely though !) They now have free Pooh Printables on their blog to celebrate their new release which sold out in record time!.
I am missing my crafting a lot, I am having my wound checked tomorrow and hopefully after a course of therapy I will be able to use my right hand again. It has been a challenge steering my wheelchair left handed, everyone dives for cover whenever I start to move!
Even though I can't craft just yet... I will post lots of Classic Pooh things this month.
Hope everyone is having a good start to Autumn!

Here is a very good quote from Eeyore
"A little Consideration, a little Thought for Others, makes all the difference." (Eeyore)